Fruit and beer, a match made in heaven.
The rise of craft brew has been significant over the last decade. With so many new brews and flavour combinations entering the market, fruits provide a huge range of natural flavour choices for flavouring beer. We know that this market is in a growth phase, and with Eastern Australia looking towards post lockdown life, we have seen interest in new and exotic flavours to enhance and strengthen this product range.
We all know Aussies love beer. In 2018, we consumed on average, over 60 litres of full-strength beer per capita for the year1, add onto that mid and low strength beer and it's safe to say the Australian beer market is thriving. So where does craft beer, specifically fruit craft beer fit into this market?
The global fruit beer market is on the rise according to Global Fruit Beer Market By Flavor By Distribution Channel By Region, Industry Analysis and Forecast, 2020 – 2026.The market size is expected to reach $570 Million by 2026, rising at a market growth of 3.7% between 2020 and 20262. The craft beer industry in Australia is valued at more than 150 million Australian dollars and is estimated to be increasing by 5 to 10 % each year3. Most craft beer drinkers are aged between 30 and 39, and a significantly higher proportion are male rather than female.
This high rate of beer consumption, coupled together with the up and coming warmer weather plus post lockdown excitement, is sure to increase the consumption of craft beers in the very near future.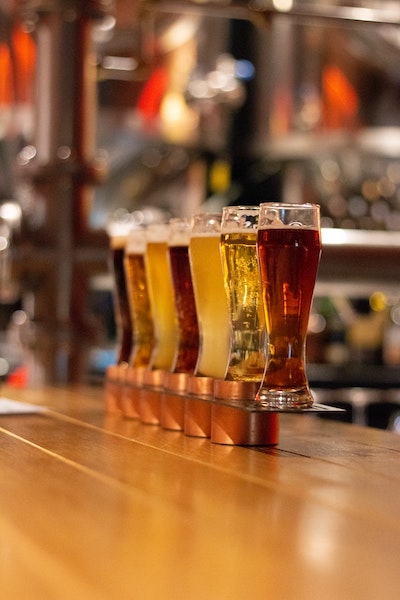 The history of craft beer
In the early 1900s the Belgians started adding fruit (mostly sour morello cherries) to their beer. Forward-thinking trendsetters! Since this establishment of flavour, there have been many variations and the introduction of many new combinations to markets right across the world.
Modern craft beer production began around the 1960s and rose in popularity as home brewing and microbreweries became popular through the 1970s and 1990s.
The rise of fruit being used in brews
The popularity of fruit in beer has exploded in recent years, adding distinct flavours to beer, to make them sweeter, more bitter or pack that extra punch that you can't get from hops alone.
Fruity beer often ties in well with the hot summer months, adds an extra level of refreshment to the drink and offers new flavour alternatives for those wanting to try a little different.
Something new
Consumers are often looking for that next big thing to share with their friends and to talk about as our country reopens and we head back to the pubs and restaurants. Traditionally, only limited to the small brewers, craft beer and fruity craft beer has become more mainstream as the popularity of the product grows. The major players are moving into this space, creating a larger range of products for consumers to choose from and increasing demand for new exotic products.
So why fruit in beer?
Fruits bring a large range of flavours and some would even say, additional experiences to the drinker. There are many reasons fruits can boost the traditional craft beer, here are just a few;
Flavour – Fruits can give the beer a distinct flavour, extra sweet, aromatic or even sour.
Food pairing – Fruits help beer pair with certain foods, that may be traditionally they would have not suited.
Natural flavour – Consumers are increasingly conscious of what is in what they eat and drink. Fruit offers a natural alternative to manufactured flavours and can also be supplied as organic or sustainably grown crops.
Trends – The rise of demand for unique craft beers has driven the expansion of fruit in beer, as the consumer demand changes from sweet to sour, fruits offer a huge range of flavours that pack that sour zing.
Culture – There is a strong culture for new and unique flavours right across a huge range of alcohol, not just craft beers.
Which fruit flavour is the king?
When it comes to beer, Raspberries, cherries, and apricot have featured heavily in traditional craft beers. Strong demand for less sweet alternatives is helping to fuel the investigation of new flavours. Interest falls with flavours like Acai, ginger, papaya, guava and even herbs.
The range and choice are huge and significant testing and investment is being made into finding the next flavour king.
Keep an eye out on the shelves in your local bottle store. Currently, there is a lot of interest in exotic fruit and herbs in the commercial drink industry and craft beer is just the start. What could be next?
If you would like to know more about our range of IQF fruits, fruit purees and fruit juices please Contact us on 02 4573 2555 or by email at [email protected].
References